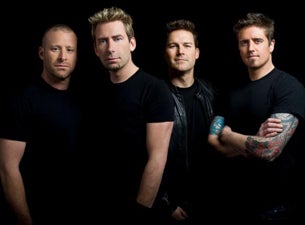 Ja, många av er vet redan att jag älskar bandet Nickelback, den kärleken började redan när de släppte singeln "Photograph" år 2005. Jag älskar hesa röster så Chad Kroegers härligt hesa röst etsade sig fast hos mig och gjorde att jag ville höra mer av detta underbara rockband. De kommer från Hanna, Alberta i Kanada och namnet Nickelback kom av att basisten Mike jobbade i en affär och växeln som han gav kunderna tillbaka var ofta fem cent, och just det myntet kallas "nickel", eftersom det tillverkas av denna metall. Då fick kunderna en "nickel back".
Källa: Wikipedia
Det jag också tycker är extra roligt med dem är deras underbara videos, de har ofta ett budskap och några får mig t.o.m. att gråta en skvätt. Ja jag är känslosam....;-) Men de är verkligen fint gjorda och får en att tänka till. Sedan har de glimten i ögat och gör även mer humoristiska videos ibland och de blir ett bra komplement till de andra. Det vore en dröm att få se dem i verkligheten någon gång.
Jag delar med mig av några av mina favoriter av videos där jag speciellt gillar videon och inte bara låten.
English:
Well, many of you already know that I love the band Nickelback, that love started as they released the single "Photograph" at year 2005. I just love these rough, hoarse voices, so Chad Kroegers wondefully hoarse voice stuck and got me wanted more of this lovely rockband. They're from Hanna, Albert in Canada and the name Nickelback is from when the basist Mike worked in a store and the change he gave back to the customers was often fem cent, and that coin is called "nickel", just because it's made of the metal nickel. So the customers got a "nickel back".
Source: Wikipedia
And what also is fun is their wonderful videos, they often got a message to tell with them and a few of them got me crying. Well yes, I'm emotional.... But they're really nicely made and you get to think about it for a while. And they have a good sense of humour and that's reflects in their videos sometimes and that makes it a good complement to the other videos. It would be a dream if I've got to see them IRL sometime.
I'll share some of my favourit videos, where I really like the video and just not only the song.
Nickelback - Far Away
Nickelback - Someday
Nickelback - Lullaby
Nickelback - Savin' Me